Me: "I am on vacation and have literally no reason to be up for anything! I am going to bed at 1:30AM, and look forward to sleeping until 10AM or later. Because. I. Can."
My Brain: "so…8:10, then?"
Me: "I literally just can't even with you."
Now, the problem is that while I was technically up at 8:10AM, it took me about 90 minutes to figure out where my get-up-and-go had gotten-up-and-went. I spent a good amount of time in that quantum state of being awake but also not wanting to do anything…but that's kinda a part of the vacation.
When I did finally get up and go, I got a cup of coffee in the solo lounge. Wendy and Jen were there; we spent some time talking at length about basically-everything, from NY vs. NJ vs. CA life, to the consensus that it's far more awesome to be an aunt/uncle than a parent.
Wendy's day involved going to a quite area (ironically, the nightclub on the top deck is a 'quiet area' until 6), so Jen and I paired off and wandered around a bit. We passed by some of the artwork; there were a number of interesting pieces, including one with a three-dimensional build that had a fascinating optical illusion. Others were interesting acrylic pieces, some had that metallic look and strong contrast. Some pieces had a more traditional look, while others were abstract. There were plenty of strong colors and sharp contrast; I'm not an art person, but I did appreciate the selection of pieces on display. I wonder if one day I'll see something akin to my all time favorite work of art, "Mourning a Geth", on display somewhere other than my living room wall.
We walked a bit further, and the Q&A session with a number of the managers (hotel, bar, kitchen, etc.) were answering questions; we stayed for a bit and listened to some of the answers. Not a whole lot of new ground (how do you deal with time off, etc.), but still great to see everyone be in good spirits. I sometimes wonder if these people really feel this way, or if they're just used to being 'guest facing' for an hour and acting accordingly.
With that, we hit up one of the main dining rooms.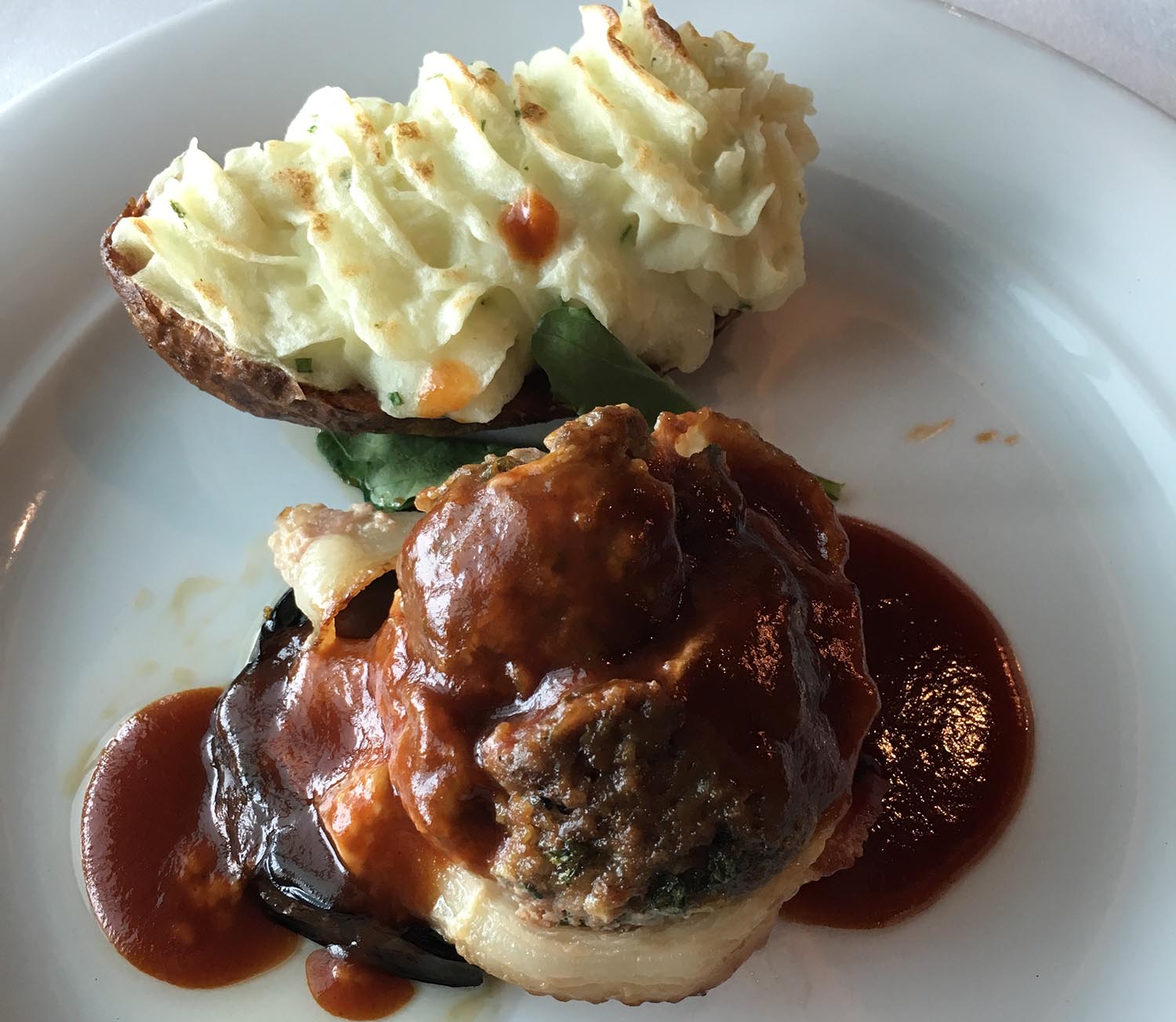 Bacon-wrapped meat loaf…how have I never thought of this before? It was fantastic, as was the presentation. Jen and I continued talking about life and work and even politics for a bit; while we have areas of disagreement we did find plenty of common ground and both agreed that the ability to have a productive discussion with both parties walking away smiling was all too rare and we were both glad we were able to do so. Key lime parfait was great, though served on a plate, which we both found a bit abnormal.
I went up to the pool deck to start writing, and did a bit of people watching. It's interesting how many people are traversing the deck, rather than sticking around on it. The DJ was doing a bit better job this go-round; I'd forgotten about the classic club track "Dive in the Pool", but it's bleeding obvious in retrospect. The sun came up a bit, but it's still rather overcast. I also realized that I'd left my N7 hoodie at the restaurant; it was a bit chilly this morning, but it warmed up and I'd forgotten about it.
That brought me to my first encounter with the guest services desk, who did in fact have my hoodie. I was glad to get it back. I spend a few minutes checking in at work…so far, everything is going smoothly, which makes me happy.
---
Blog. Nap. Mass Effect.
Now you're caught up on everything between my last entry and 5PM. The solo travelers get together at 5 daily, so I went to the meeting. A few new faces who weren't there yesterday showed up and introduced themselves. We played a game of trivia, but got only half the answers right. Jen, Wendy, and I comprise a trivia team; we've named ourselves "AT&Team", since Jen works for a subsidiary of Ma Bell. The trivia games accumulate throughout the week; we'll see what happens.
It's formal night, so I was glad I brought my suit. It's a bit amusing to me that tonight is formal night, primarily because of how relatively few people actually wore formal wear. Some people really got into it, and I agree that it's ultimately a good thing that formal wear is optional, but I still wanted to look pretty.
So, I went back to my stateroom to change, and it was a comedy of errors. First, I used the restroom, but the toilet paper dispenser fell off the wall. The screw holding it in place was loose, so I went through my spare set of screwdrivers in an attempt to reconnect it. As it turned out, it used a Torx bit, and though I had half a dozen precision screwdrivers on me (doesn't everyone?), I couldn't do more than a little bit of tightening on it, but I managed to deal with the important parts of that exercise. Then, I went to gel my hair. It's been so long since I've done that, my hair gel container had gotten far more solid than I needed it to be – it had a consistency closer to wax than hair gel. So, I tried adding water, and while it'll probably be fine tomorrow, it isn't right now…so I mixed it and used enough of the watery stuff to get my hair to look about-right. My hair was, at that point, actually-wet, requiring a hair dryer to get my hair to actually do the spike/fohawk look I tend to do. Well, the hair dryer had one of the EU standard plugs, and while I do have EU outlets, none of them are near any of my mirrors. So, I ended up having to use my turned-off TV to blow dry my hair…but ultimately, I did get it.
Though the Solo Travelers were having dinner 'together', one of the two tables were filled. This left Wendy all by herself, as she was waiting for Jen, Randy Sr. and Randy Jr., and myself. I walked in, she and I chatted for a bit, and the two Randys came in about ten minutes after me…at which point, we'd put in orders. The ravioli appetizer was great, and the roast beef entrée was also very good (albeit a tad too salty), but the real MVP were the pesto tomatoes. I was super happy to have those; I'd been waiting for them all trip…and they delivered.
It's impressive how many tech people are on this cruise; Randy Jr. *also* works for a software company, so we all had a good chat about that. Randy Sr. is retired; in his heyday he did commercial printing back when doing embossed business cards was a manual process, and he was proud of his work in the field. It dovetailed us into a good old fashioned "kids these days" discussion, complete with the go-to examples of rotary phones, vinyl records and 8-tracks, and cursive writing.
Jen still hadn't arrived, so while we were joking earlier that she was weaving her dress, Wendy and I were getting a bit nervous about whether she was okay. So, we decided to go to guest services to ask them to call her room as soon as I finished writing my comment card. As I did so, Wendy said, "we won't have to go to Guest Services". Jen had arrived in a 'disco ball' dress, as she put it. Though Wendy and I were literally about to leave, we opted to have dessert instead while Jen had her dinner. Our waiter was accommodating and at no point did we feel any pressure of any kind, but it was clear that having two people having dessert while one person was placing their drink order wasn't his usual flow. He took the curve ball like a boss, but it was clearly a curve ball for him.
Dessert was an apple strudel; it had a few too many raisins for me to describe it with a superlative adjective, but it was still a treat.
The three of us went to the mojito bar, which is just what it sounds like – a bar which specialized in making different kinds of mojitos. Wendy bid us farewell shortly thereafter; as described, she's one of those weird morning people who's done with the day at 9:30. I had a raspberry mojito, Jen got a cucumber jalapeño one. We each let the other try our respective drinks. This was a bad move. I was not expecting a spicy drink, and I certainly wasn't expecting one *that* spicy. The bartender was entertained, which was a good thing – he had a very deadpan sense of humor that was difficult to determine whether he was just giving a stoic delivery, or if he had 'just had it'.
---
Is tonight the night Joey finally managed to avoid being a grown-up, and stay out late to enjoy some of the night life instead of retiring to his stateroom and go to bed before midnight for no discernible reason?
Yes. Yes it is.
It started to rain just as I arrived. It wasn't a torrential downpour, but it was enough that there was a mass exodus as soon as I was walking in. It stopped shortly after, but the crowed seemed to ebb and flow as the drizzles started and stopped throughout the night.
The DJ was doing a 'dancing through the decades' bit, where he was playing 15-minute sets of 70's, 80's, and 90's before going into more traditional club fare. The 80s set was good, and though the 90s was also solid, I was a bit surprised that he stuck to more of the 90s hip-hop stuff, which the crowd seems to go for, but the absence of 90s pop anthems "Ice, Ice Baby", "Wannabe", or "Everybody" was…not how I would have done it. I was also surprised that they didn't do a 2000s category. While his club set seemed to span basically everything from 2000-2019, I find it a bit notable in general that it's not as much of a 'defined music decade' as the rest of the 20th century.
Terry showed up for a bit as well. He strikes me as a dude who is very out of his element, and though we didn't talk for more than a minute or two, I was glad he came. Shocking as this may be, I stuck to the edges and did the white guy shuffle for a bit, largely doing some people watching. There was a small group of women who gave off that "elementary school teacher" vibe, blowing off steam and clearly glad to get away from the drama that is 'the parents' and 'the administration' (though, I have no confirmation of this). I've noticed that there are a number of Korean groups traveling; though they tend to stick to themselves, one of the groups was on the dance floor for a good portion of the night, and they knew every lyric to every song. There was the 'clearly wasted white girl', who needed her 'mom friend', and a number of other younger couples enjoying the club atmosphere.
The event wrapped up around 12:30, just as well as it started actually-raining on my way back to my room.
Change clothes. Mass Effect. Bed.