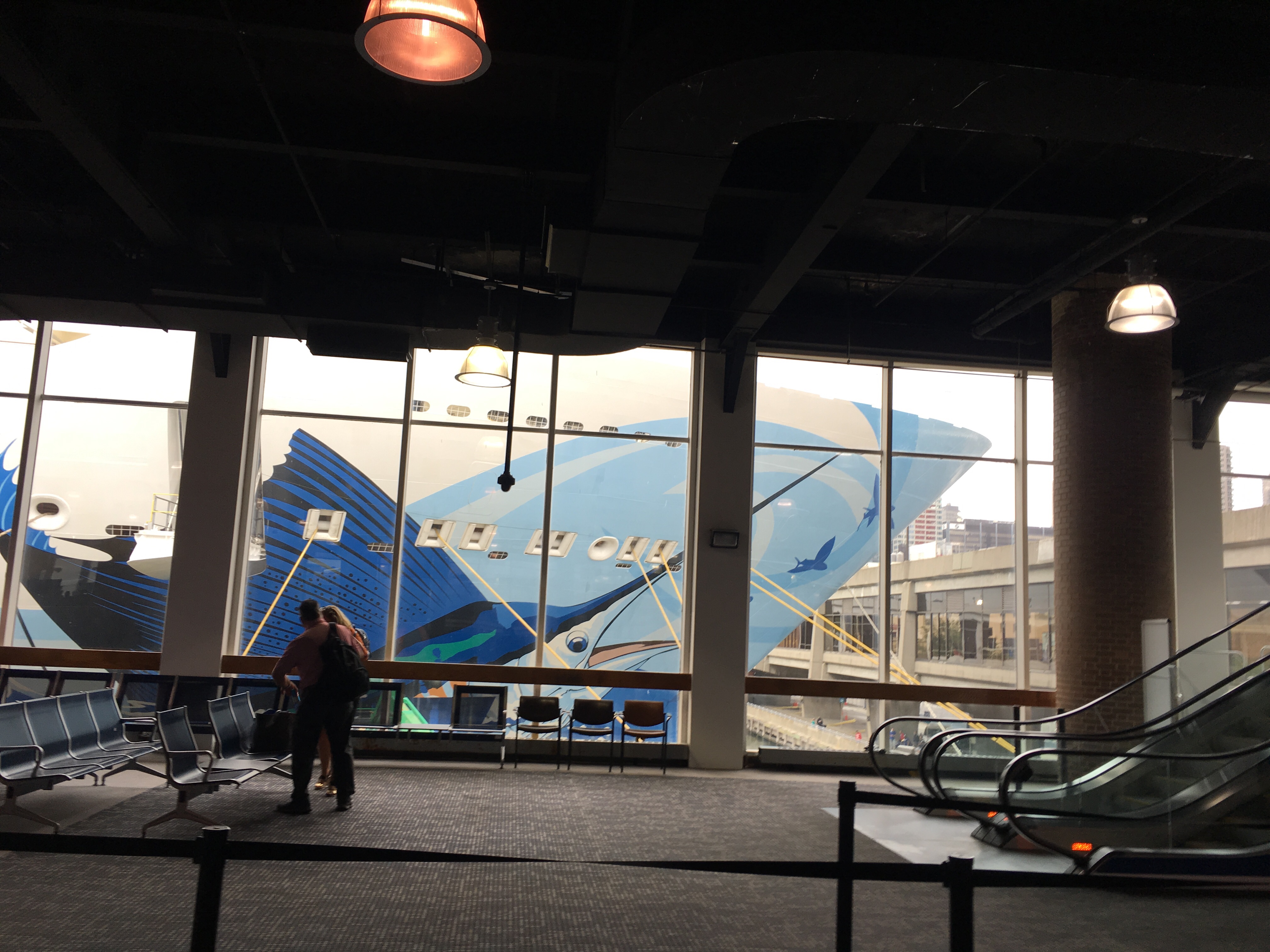 It's weird that I can navigate an airport terminal like a boss, but put me in a cruise terminal and I'm lost like a derp.
A better place to start would be the ride here. My boss was awesome enough to spring for a limo, which was super appreciated. However, the fact that it wasn't a round trip limo meant I couldn't bring anyone with me, leaving me to enjoy a party bus by myself. I spent a little of the time working out the fact that I was, in fact, deep, and didn't print out my boarding pass. I did find, however, that their mobile app does present them, which is a life saver. Beyond that, however, I will tell you that an empty party bus most definitely feels different than a party bus with, well, a party.
So, I'm here in the cruise terminal, blogging to kill some time as I wait to be checked in and allowed to board…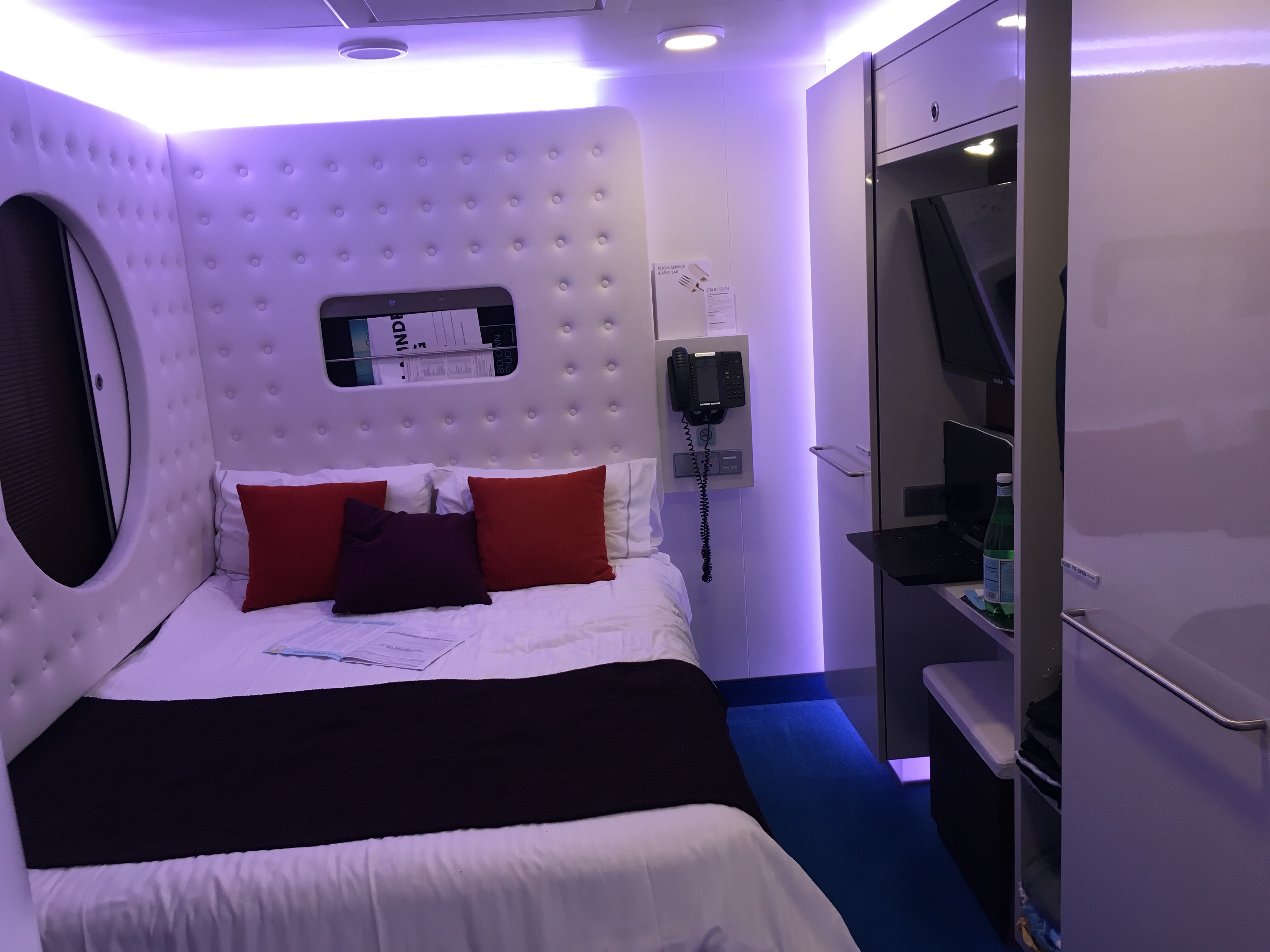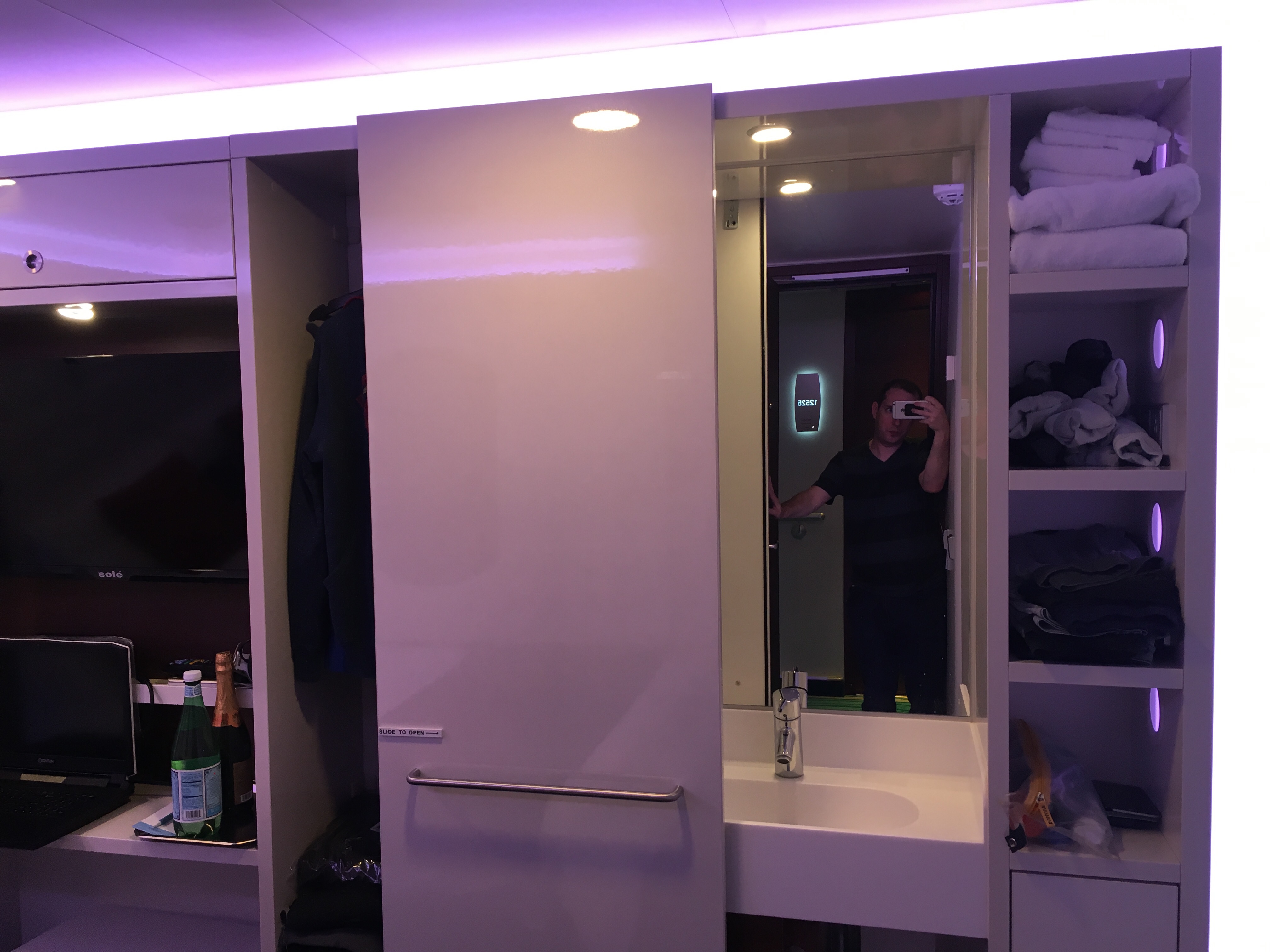 I'm onboard and unpacked. It's amazing how well they utilize 99 square feet. It's small, but it does the job…except for my laptop, which is a problem I look forward to solving…somehow. The room has those nifty RGB LEDs, though apparently I can't give my room a green hue? Oh well.
Also notably, everything is interior this go-round. No sunsets or sunrises from my room or from the solo traveler lounge, but there is plenty of communal deck space.
I already made an acquaintance, which is a good sign.
So, we're off, which means I've got like five minutes before I have to start using my onboard internet time. On the pool deck, they're doing a 'kickoff' party. I feel a bit bad for the crew; it's chilly and a bit overcast, so it definitely doesn't feel like a party just yet. I will, however, judge the guy on the upper deck, taking a video of everyone doing the Cupid Shuffle. Bro, literally nobody is ever watching that video. I'm also judging the DJ; going from Cupid Shuffle to Cha Cha Slide is amateur hour…and while I can understand the MC wanting to be interactive, shouting out the directions to the Cha Cha Slide is redundant; the song is 19 years old; there are exactly zero people on this cruise who have never heard it before.
On my to-do list is to talk to some of the crew who are doing the whole motivational dance thing. I know I will forever feel awkward on a dance floor, but there is most definitely a certain personality required to be 'into it', with intent and a smile when there are like three people dancing with you. I sometimes wonder if I'd be willing to trade my IT acumen for that level of skill at dancing and crowd motivation.
Alright, so…first night largely in the bag at this point.
After I left the deck party, I headed to the Studio Lounge, where I met up with Wendy, a woman who works for a teleconferencing company which has a solid niche in the medical field. She's pretty technical, and we talked for quite a bit about things of that nature. It was nice to make a fast friend.
After talking to Wendy and getting a cup of coffee from the espresso machine, I went back to my room and unpacked. The room definitely has this strange Tardis Effect, in that it simultaneously feels very small, but uses space so efficiently that I don't feel cramped. We'll see how that changes the first time I use the shower in the morning, but for now, it's fine.
I ended up going back to the Studio Lounge, only to find that there was a gathering of many of the solo travelers…and I was late for it. Not too late, apparently – Kareem, our solo traveler specialist, talked a bit about things before he shifted gears and went around the room with everyone introducing themselves. Tom is a "cruise ambassador"; apparently he's been on 20 cruises this year? It's on my to-do list to talk to him about that, because it seems like the sort of thing that would ultimately get boring after a while, so I'm interested in his take. Also, there was 'the blonde lady whose name escapes me'…and she was a bit too helpful. Expressing a willingness to provide assistance and insight is one thing, and having lived in Bermuda for several years, I am sure she has both. She established her self as being 'that guy' when we couldn't even get through sharing our names and home towns without her interjecting a paragraph or four.
After Kareem was done, we went through the itinerary of stuff-to-do, which tonight is a bit light. I ended up speaking with Terry, a dude for whom it is his first time cruising, his first time to New York, and his first time traveling internationally. Apparently he's relatively technical as well – his desktop well outspecs my laptop, so we got talking for a bit. After we decided to end our discussion, I started talking to Wendy a bit more at length. I ended up making a bit of a correlation: In general, the sort of people who file away all their e-mails into an intricate set of subfolders tend to be morning people. People like me, who have 20,000 things in their inbox and just use 'search', tend to be night people.
Not too long after, Jen joined us. Jen works for AT&T, apparently has an IT background as well (and played a few MMOs before the term was a thing), and has two kids. We spoke for quite a while about things, both technical and nontechnical. Jen comes from California, so she's well versed in things wine-related. The Studio Lounge has a wine dispenser, which I found amusing because one of our clients at work has the same exact models.
We took our discussion to the bar, where Wendy and I had food, and Jen and I had some drinks. Overall, solidly enjoyable discussion. I had a Chicago Style hot dog, which was very good. I was kinda-sorta hungry thereafter, and apparently they were serving prime rib at one of the main dining areas. I got some, and was unimpressed. Now yes, I have been spoiled rotten by living so close to The Spare Rib, but I mean, this stuff was 'meh' at best.
I could barely make it up the 18 flights of stairs between deck 7 and deck 16. I'm hoping my legs are in a bit better shape by the end of this trip.
Also, there are two access points in the studio lounge. Why? They're Cisco APs, that room fits maybe 40 people. That sort of question is the sort of thing everyone is curious about, right? …right?
Did you think I went back to my room and played Mass Effect? Seriously? You did? I'm ashamed that you would think I was that predictable.
I went back to my room and played Titanfall 2.
I debated going to the party, because I was getting tired and I'm not 22 anymore, but I did attempt to do so. I wandered around the ship looking for where I thought it was, and when I got there, there were like three blokes on the side drinking a beer. I was a bit surprised, because it was about 12:30 when I did this, and I couldn't see a first-night party being completely over with everyone gone and the floors swept just two hours later. When I got back to my room, I realized I was in the wrong place, and decided that it was late enough that I wouldn't have much fun when I went anyway, so it was bedtime for Joey.
Overall, a solid first day.