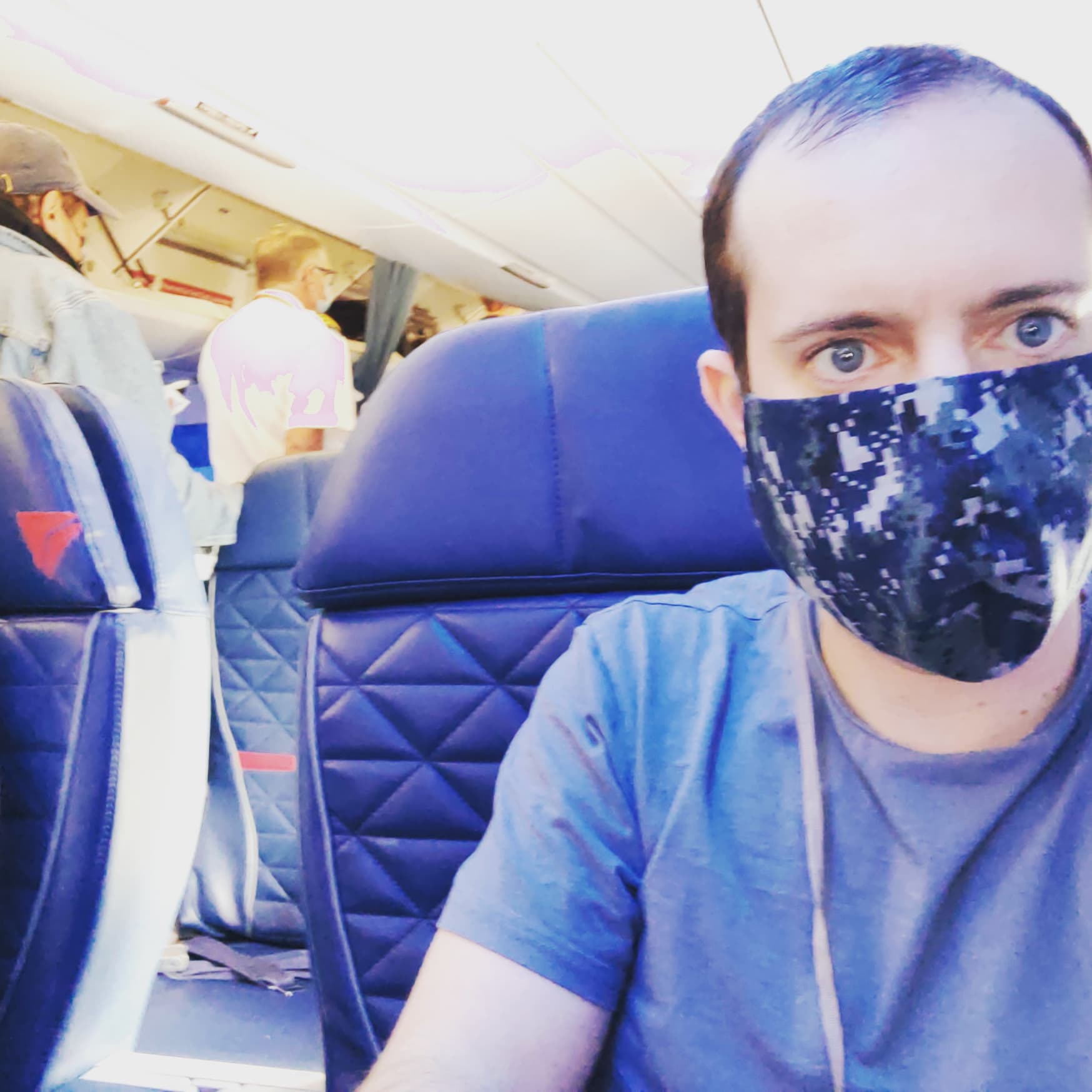 Is it weird to have "being able to wait for a flight in the Delta SkyLounge" one of those things on my bucket list, as if it is an accurate reflection of having "made it"? The SkyLounge means you either fly on a near-monthly basis, or you've got enough money to justify spending $550 a year to have a platinum American Express card…itself an odd thing for me to reconcile from a recipient's perspective – It makes sense for Amex; anyone who spends that much on having a credit card probably doesn't pay much in interest and those free airline tickets have to get paid for somehow. Maybe it's like owning a Cadillac – I've heard on more than one occasion that it's common to not want a Cadillac until after you own it.
Until then, today marked a slightly less ostentatious milestone: It's my first time flying first class. Before I started writing this out at 34,000 feet, it was a trip from the LIRR to Kennedy. I've taken this route before, but I was surprised that the MTA is letting all tickets be off-peak, but then again, there were maybe a dozen people in a train car that normally seats over 80. I'd blame Covid concerns, but while the mask requirements are well laid out, enforcement is, shall we say, inconsistent. It's been years since I rode the LIRR daily, but I oddly miss the commuter rail.
One of the core tenets of being a commuter is the sense of, ehm, community. New Yorkers have a reputation for being curt, but if you're visiting New York and find yourself lost on a train or subway, fear not. Long time commuters develop an instinctive compulsion to shepherd confused travelers to where they need to go. I learned that this instinct doesn't atrophy. A mother about my age and her two children got off the AirTrain with me. She seemed a bit confused about which direction to go to get to the terminal, but that instinct kicked in and I made sure she got on the right elevators and followed the proper signage to get where she needed to go.
Getting to the terminal early worked out particularly well; I was able to get some work done for a client while I was sitting at the terminal. In between VPN and SSH sessions, I started making my campaign plans for when I take over the world run for president. My plan is to ignore the wedge issues entirely. I'll let Congress bicker about healthcare and gun control and taxes. What's my starting point? Free headphones in airport terminals, and a $10,000 fine for using the speakerphone for any reason. I like Cinemasins, but hearing that incessant 'ding' while someone was watching using their speaker for nearly an hour was, in my opinion, justifiable cause to perform the sorts of actions that would have caused me to miss my flight due to being detained by the TSA…then again, I feel like half the terminal would have signed affidavits saying that they saw nothing. For Youtube videos, three Facetime calls, two casino games, and a partridge in a pear tree later, and I came to a decision: mom, if you're reading this, know that all phone calls going forward will involve me stating your legal name, address, and social security number, place of employment, and your mother's maiden name. You will no longer be one of those people who takes speakerphone calls in public; you raised me too well to be that level of inconsiderate.
So, what's First Class like? Well, in an amusing irony, not as good as it could have been. See, originally I was slated to get a connecting flight that changed in Milwaukee (not kidding), which would have afforded me the "real" first class experience – fold-down seats, a lounge to walk around in…the kitchen sink experience my bank account normally can't handle. However, my reschedule meant that I got a direct flight (yay!) that included a less-awesome first class experience (boo!). That being said, the only people who got on my plane first were individuals with disabilities and active duty military, so that's certainly fun. We have our own dedicated flight attendant handling my 20-or-so fellow travelers. I think alcohol is included, but I'm not drinking while flying…there's just enough turbulence to make me conscious of my stomach; no need for ethanol-sourced complications. I believe it's been almost 10 years since the last time I was given a meal on an airplane; I would imagine that my 2012 transatlantic flights included food, but I'd have to look up my travel blog to verify. Meals are chilled and served sealed; I opted for a strawberry/chicken salad. I know portions aren't going to be the same size as a sit-down restaurant, but I most definitely look forward to eating upon landing. Sorry I forgot to take a photo of it; I'm keeping my phone in my pocket until we land. I'm reminded of the meme with a guy on a phone call, captioned "Instagram is down! Just describe your lunch to me!"
So, I landed in the airport, grabbed my luggage, and went to get my rental car. Normally, I've just gone to the counter and gotten one, but this particular rental car company was off-site and had shuttles. It was a bit confusing, but a few extra steps later, and I got to the counter…only to be told that my reservation was for 11AM, and since I didn't show up for two hours after, I got a "no show", and canceled the reservation. A call to AmEx Travel later, and I got a reservation at a different company…which was just as well because I was like-this-and-like-that about some of the policies of the first company.
I grabbed an Uber to the second counter; , I was at the other counter. They were wonderful and helpful. While I was waiting, Shark Tank was playing in the lobby. I have mixed feelings about the people who pitch their products on the show…primarily because after thirteen seasons of the show, people still seem like they're unprepared to answer questions. Being passionate about your product or idea is one thing, but how do you barely hold back tears when someone whose focus is getting a return on their investment asks hard questions?
My Camry was documented for the handful of minor scratches and dings, and a few signatures later, I was on my way. The three hour drive was mostly empty highway; unsurprising as my journey started around 9PM. A clear night with moderate temperatures made the drive enjoyable. A taco restaurant a mile away from the hotel supplied dinner; I got my food and checked into the hotel.
I'm not the sort of person to expect to stay in an executive suite with a bottle of champagne on ice for me. Hotel amenities are largely lost on me; a bed, a bathroom, and a few electrical outlets are all I need. My room at this hotel, however, couldn't clear that. The hallway both had multiple 'no smoking' signs, and the clear aroma of cigarette smoke that was readily apparent, even through my mask. When I got to the room, it was literally the worst room I'd ever been shown to. The bed wasn't made, the towels were all used, there was a cap for a hypodermic needle on the floor near the bed…and in addition to every pillow having "moisture content", there were two wet spots on the bed, about at waist level, and no, there wasn't a leak on the ceiling…I'll deal with imperfections, but that's the sort of legitimately-concerning situation that makes me 'nope' my way to the front desk…after I ate my tacos of course, because I was most definitely in need of deliciousness.
So, it's about 1AM at this point, and I get to the front desk and ask if I could get a different room; none were available, nor would there be the following nights. So, I got some extra blankets to sleep on the floor. The woman at the front desk tells me that they'll process a refund in the morning. So, on the floor I slept, reminding myself that pretty much everyone in the New Testament had worse sleeping arrangements.