I had something else planned to write about. But last night, I had a simple question about paying my American Express bill. Like any normal person who had such a question, I made a phone call.
That call took six minutes. One minute was spent getting my answer from Charlotte, two minutes were spent on hold, and four minutes were spent convincing the automated phone system that I did, in fact, need to speak to a representative.
Here is the problem: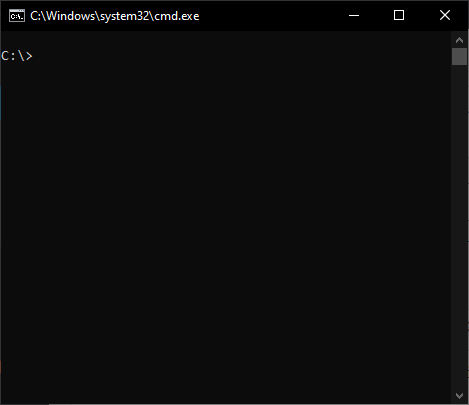 No, not the actual command line in itself. I use that all the time. Not for everything, certainly, but I do use one. In 1988, everybody who used a computer used one of these (except of course those Mac and Amiga folks). By 1995…basically nobody did. The reason command line interfaces are relegated to developers and sysadmins is because they have a major flaw: what do you type? It's not readily apparent what commands get things working, and the list of those commands isn't intuitively discoverable, either.
Voice-based phone systems have the exact same problem as command lines. I called American Express to discuss a question about paying my bill…but when I said "question about paying a bill", it then told me the status of my last payment, and asked me if I wanted to make another one. I then said, "Ask a question", to then be condescendingly read four paragraphs that amount to 'look at the website'. Eventually, I just held down the '0' key until it said, "I'll get you over to a representative". Then, it asked another question 'so that it could get me over to the right representative', and when I answered, it said, "I'm connecting you to a representative". I'll also mention that virtually every prompt up until this point ended up with me getting a "sorry, I didn't get that" prompt. The representative I ultimately got connected to understood my question and answered it in less than a minute.
It evoked memories of the episode of Frasier titled "Roe to Perdition", in which Martin tries to return an extra $20 bill to a bank, and ends up shouting "PER-SO-NAL!" to one such system. When he gets nowhere, he heads to the bank to talk to a human, who herself gets on the phone and yells 'personal' in the exact same way. That episode was aired in 2003, and automated phone attendants utilizing voice prompts remain just as useless as they were nearly 20 years ago. The fact that this technology remains just as problematic today as it was in the year Finding Nemo and Pirates of the Caribbean were released leads me to believe that the issue is more fundamental than it is technical.
I had some hope about two years ago when I saw the demo for Google Duplex. While the demo was met with skepticism by some at the time, it does appear that the tech is being used 'in the wild' at this point. I had always hoped that Google would let Duplex integrate with phone systems, where people could ask natural language questions and talk to an AI that's able to route users to the right place by intelligently making the distinction between "make a payment" and "question about making a payment". It looks like the technology exists, but unsurprisingly, it hasn't made inroads into this field.
This leaves the human element far worse off than it could be. Now, I understand the major issue with having human receptionists: people are likely to tell their whole story to the first human they talk to, even when it should really be handled by someone in a specific department – typically billing or support. While my particular question likely could have been answered by just about anyone, it's obvious that not every question would fit into that. Automated attendants do help to do some base level routing.
What we have now, though, is a command line. It doesn't look like one, and it might use words instead of commands like "ls -alFh", but a command line it is. One might argue that it's more of a menu driven interface with a hidden menu, but either way, when 'navigating the menu tree' takes more time than a plurality of the calls it routes, the result is that callers begin from a starting point of frustration, which increases the level of work call center employees must do to help customers who weren't frustrated when they dialed. Voice prompts make life worse for both sides of a customer service call, even more so when every attempt to guess a command is "I'm sorry, I didn't get that". It's less human and yields no benefit for the owner phone system.
This leads us to the "For X, Press 1", truly menu-driven phone interface. It's the least-bad option, but when the late, great Robin Williams can make them part of a stand-up routine, it's clear that it's like being able to say, "at least our customer satisfaction levels aren't as bad as Comcast"…yes, it's a good thing that it isn't worse, but that's not a statement of success. The problem with menus is that, more often than not, they are implemented poorly. The fact that the website GetHuman.com exists is a testament to this. Many phone systems have too many options, commonly landing users on recordings that take too much time to listen to for the next prompt, and have routing loops and unnecessary levels of complexity.
As I've considered how phone systems should be laid out, here's what I've come up with: Until Google Duplex and its enterprise components are integrated into a phone system, Phone menus should have no more than five options, and each of those five options should themselves only have one additional menu with five options on it. This can be stretched to three menus of depth if and only if the first menu purely consists of language selection. This leads to a total of 25 possible destinations for a call, and I'm hard pressed to think of businesses where call centers would need more than 25 possible call destinations, not including direct extension dialing. If there are, then there's probably justification for a second phone number, and the process repeats again.
So, that's my rant.